Written by Medialeft GB Administration
Monday, 31 October 2016 01:11
Lucas Koerner -


Steve Ellner, the Universidad de Oriente professor discusses a range of contentious issues in Venezuela, including the efficacy of state social programs such as the CLAPs, rentierism, and the Maduro government's controversial Mining Arc, as well as the role of international solidarity
It's no secret that one of the hallmarks of the Bolivarian process has been the democratization of oil wealth in order to improve the living standards of the impoverished majority of the Venezuelan population.  However, this policy has been hysterically denounced by Western political, media, and academic elites as "populism."  Is Chavismo populist?
First of all, it should be kept in mind that the term populism has been defined in many different ways, even antithetically.  You have writers like Ernesto Laclau who views populism as the quintessence of politics, because the populist leader is someone who is able to unify distinct segments of the population on the basis of the same slogans.  The phrases that he or she uses appeal to different sectors of the population and are interpreted differently, but that's really what politics is all about.  When some people and the media accuse Chávez of being a populist, they're referring to a different definition of populism.  I would call it "crass populism" in order to avoid confusion around the term and not bury the very important contributions of the works of Laclau.  The detractors of the Chavista governments, including academics who call Chávez a populist in the pejorative sense of the word, argue that the social programs of populist governments are inherently unsustainable.  Non-populist governments, on the other hand, implement social programs that are perhaps not as successful in the initial stages because they assign fewer resources, but, in the long run, are sustainable.  In contrast, the populist governments receive a lot of publicity, get a lot of popular support at first, but eventually their programs go under because they are untenable.
Read more...
Written by Medialeft GB Administration
Monday, 25 April 2016 13:09
T
he photographs showing glimpses of our son's first 30 months of life are complemented by text that situates his existence in a white privileged post-modern materialist culture, in sharp juxtaposition to the lives of children whose childhoods have been stolen.  Please enjoy and ponder this exhibit, treating it as a meditation on being.
Thank you to those people who have supported our urgent FundRazr campaign (STOP GUNFIRE IN OUR COMMUNITY link below) to help my family recover from 
the financial burdens of our struggle to stop gunfire and explosions in our rural community in Williamsburg MA continues.  (Probably Christmas and New Years wasn't the best time to launch this campaign but waiting was not a helpful option either.  Please feel free to follow the link below and engage the campaign to get some idea of the hardship this has caused us and the depths and darkness of this struggle. WWe went up against militarization and violence, and we prevailed, to a great degree, but the emotional, psychological and financial cost was great.  Please also feel free to circulate and forward this appeal to others.
As the weather and planet heats up, I hope you will take refuge in the awareness that all life is fleeting, and everything we do will be meaningless, but we must do it.
Save
Last Updated on Thursday, 01 September 2016 17:25
Written by Arun Gupta
Sunday, 14 April 2013 18:43
NABEEL USED TO WORK FOR the Americans in Iraq. He was a security team leader for the Research Triangle Institute, a U.S. contractor that was paid more than half-a-billion dollars to run "local governance programs" throughout the country. He survived three car-bombing attempts. "I was lucky," he says nonchalantly.

But as GIs began to exit Iraq in 2011, he knew that his luck would not last. Nabeel says that some guys threatened him: "We will kill your son. We will get revenge when the Americans leave Iraq." Nabeel didn't need much more encouragement, given the collapse of public services that had made life arduous, so he applied for a special immigration visa for Iraqis employed on behalf of the U.S. government. With his family, he immigrated to El Cajon, California, in July 2011.

He expected a warm welcome and a decent standard of living for helping the war effort.

"When I came to the United States, I thought I would be better than the prime minister in Iraq," recalls Nabeel. "Now, I am jealous of the street cleaner."
Read more...
Written by Chris Hedges
Sunday, 14 April 2013 15:49
The rewriting of history by the power elite was painfully evident as the nation marked the 10th anniversary of the start of the Iraq War. Some claimed they had opposed the war when they had not. Others among "Bush's useful idiots" argued that they had merely acted in good faith on the information available; if they had known then what they know now, they assured us, they would have acted differently. This, of course, is false. The war boosters, especially the "liberal hawks"—who included Hillary Clinton, Chuck Schumer, Al Franken and John Kerry, along with academics, writers and journalists such as Bill Keller, Michael Ignatieff, Nicholas Kristof, David Remnick, Fareed Zakaria, Michael Walzer, Paul Berman, Thomas Friedman, George Packer, Anne-Marie Slaughter, Kanan Makiya and the late Christopher Hitchens—did what they always have done: engage in acts of self-preservation. To oppose the war would have been a career killer. And they knew it.
Read more...
Written by Bill Crane
Saturday, 17 March 2012 02:02
Link to source: http://socialistworker.org/2012/03/12/left-out-of-the-kony-2012-video
"KONY 2012," a social media campaign by the charity group Invisible Children that caught fire last week, has brought the wars of central Africa into the media spotlight.
A video produced by Invisible Children that got some 71 million views in less than a week focuses on Joseph Kony, leader of the Ugandan rebel group Lord's Resistance Army (LRA). The 30-minute video claims that Kony is "the most dangerous man in the world.
Invisible Children says it hopes the video will "raise support for his arrest and set a precedent for international justice." The campaign, which jumped from Facebook, Twitter and YouTube to the front page of newspapers across the U.S., asks supporters to make Kony "famous" by posting flyers with his image. This, the video suggests, will convince the U.S. government to step up support for the Ugandan military in its quest to "stop Kony"--to kill him or to bring him to trial at the International Criminal Court.
Read more...
Written by James Petras
Monday, 05 March 2012 15:18
Link to source: http://petras.lahaine.org/?p=1872
The conquest and occupation of Libyan is first and foremost a
military victory
for NATO. Every aspect of the military offensive was spearheaded and directed by NATO air, sea and ground forces. The NATO invasion of Libya was basically a response to the "Arab spring" : the popular uprisings which spread from North Africa to the Persian Gulf.
Political and military considerations were foremost in motivating the NATO invasion: As late as May 2009, the U.S. and European regimes were developing close bilateral military, economic and security agreements with the Gaddafi regime. According the British daily, the Independent (9/4/2011), official Libyan documents found in its Foreign Office described how on December 16, 2003, the US CIA and British MI6 established close collaboration with the Gaddafi government. The MI6 provided Gaddafi with details on Libyan opposition leaders exiled in England and even drafted a speech for him as he sought rapprochement with the outside world.
Read more...
Written by Michael Thomas
Tuesday, 27 December 2011 22:14
Link to source: http://bit.ly/the-big-lie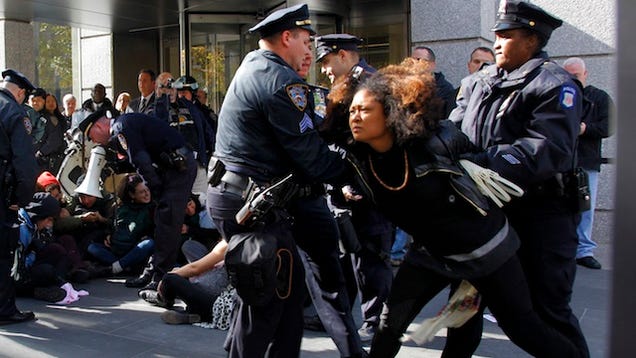 Imagine a vast field on which a terrible battle has recently been fought, the bare ground cratered by fusillade after fusillade of heavy artillery, trees reduced to blackened stumps, wisps of toxic gas hanging in the gray, and corpses everywhere.
A terrible scene, made worse by the sound of distant laughter, because somehow, on the heights commanding the dead zone, the officers' club has made it through intact. From its balconies flutter bunting, and across the blasted landscape there comes a chorus of hearty male voices in counterpoint to the wheedling of cadres of wheel-greasers, the click of betting chips, the orotund declamations of a visiting congressional delegation: in sum, the celebratory hullabaloo of a class of people that has sent entire nations off to perish but whose only concern right now is whether the '11 is ready to drink and who'll see to tipping the servants. The notion that there might be someone or some force out there getting ready to slouch toward the buttonwood tree to exact retribution scarcely ruffles the celebrants' joy.
Ah, Wall Street. As it was in the beginning, is now, and hopes to God it ever will be, world without end. Amen.
Last Updated on Sunday, 22 February 2015 00:28
Read more...
<<

Start

<

Prev

1

2 3 4 5 6 7 8 9 10 Next > End >>


Page 1 of 11