Written by Stephen Lendman
Wednesday, 02 June 2010 12:56
Link to source: http://sjlendman.blogspot.com/2010/06/israels-new-initiative-barbarism-and.html
This article follows from this writer's Monday one, accessed through the following link:

http://sjlendman.blogspot.com/2010/05/brave-israeli-commandos-slaughter-aid.html.

On May 31, under cover of darkness, Israeli commandos conducted a premeditated act of state terrorism against civilian aid activists trying to deliver thousands of tons of essential to life aid to besieged Gazans. Israeli radio reported that 19 were slaughtered, dozens more injured, and according to Earth Times.org:

"About 480 foreign activists who were stopped by Israel on the high seas while sailing to Gaza were transfered overnight to a prison in the southern city of Beersheba, Israeli Radio reported (June 1)." About 48 others were deported. Other reports had over 600 arrested and an Israeli-imposed news blackout.

Those held now face grueling interrogations, followed either by deportation or detainment ahead of prosecution, Israel's customary practice - blaming victims, absolving state terrorism, repeatedly committed, claiming it's to safeguard national security.

Or by Israeli logic, its attack was self-defense. Linked to "global Jihad, Al Qaeda and Hamas," humanitarian activists were an "armada of hate and violence (engaging in a) premeditated and outrageous provocation," according to Israel's deputy defense minister, Danny Ayalon.

Not according to Turkey's Prime Minister Recep Tayyip Erdogan. Canceling scheduled military exercises with Israel and recalling his ambassador, Oguz Celikkol, he said:

"It is no longer possible to cover up or ignore Israel's lawlessness....This action, totally contrary to the principles of international law, is inhumane state terrorism. Nobody should think we will keep quiet in the face of this."

Nor should anyone let Israel get away with a crime this grave, its latest example of lawlessness, this time in international waters in violation of the 1958 Geneva Convention on the High Seas and 1982 UN Convention on the Law of the Sea (UNCLOS).
Read more...
Written by Kourosh Ziabari
Thursday, 20 May 2010 00:00
Link to source: http://www.atlanticfreepress.com/news/1/13259
Michael Behe is an American scientist and biochemist. Being an intelligent design advocate, he serves as a professor of biochemistry at the University of Lehigh in Pennsylvania. He is also a senior fellow at Discovery Institute's Center for Science and Culture.
Behe has controversially challenged the evolution theory of Charles Darwin which underpins the ideology of western thought with regards to the material life and universe.
In his 1996 book "Darwin's Black Box", Behe has proposed the notion of irreducible complexity which underscores the role of an intelligent designer in the emergence of complex biological systems. According to this theory, certain biological systems are too complex to have evolved from simpler and less complex predecessors.
The theory of Behe undermines the basis of atheism and secularism as it advocates the role of an intelligent, conscious designer in the creation of human being. That's why Michael Behe has been attacked and insulted by a number of his opponents and the materialist scientists who deny the existence of God.
Michael Behe has been accused of disseminating deceitful falsehood and what is describe as pseudo-science in the scientific circles around the world. Behe's theory has been labeled as argument from ignorance and the University of Lehigh has clearly distanced itself from his viewpoints regarding the evolution - creation debate.
Here is the complete text of interview with Michael Behe in which he describes why the western society is afraid of the propagation of "intelligent design" theory.
Last Updated on Monday, 02 August 2010 01:46
Read more...
Written by Peter Schwarz
Thursday, 13 May 2010 00:00
Link to source: http://www.wsws.org/articles/2010/may2010/pers-m13.shtml
Last weekend, European leaders and finance ministers agreed to a rescue package for the euro which inaugurates the most comprehensive offensive against the working class since the end of World War II. This offensive must be repulsed by the combined resistance of the European working class.
On Friday evening, the leaders of the euro-zone countries met in Brussels to formally pass the €110 billion package for Greece drawn up during the week. But a two-hour dinner then turned into a six-hour crisis meeting.
Two days beforehand, a general strike in Greece had clearly shown the scale of the resistance to the austerity measures being introduced by the Greek government. The financial markets, which had seen massive profits garnered through speculation on a Greek sovereign default, were then gripped by panic. On Thursday, America's Dow Jones stock index at one point plummeted by up to nine percent.
This increased the pressure on the European governments to provide debt guarantees not only for Greece, but also for all other deficit-ridden euro countries. President Obama picked up the phone personally to convince German Chancellor Angela Merkel to abandon her opposition.
In a night session, the heads of state and government leaders then established the foundations for a comprehensive financial package that was then further elaborated at another summit meeting on Sunday. It was to be finalised in the early hours of Monday morning, before the Japanese markets opened and the wave of speculation against the euro resumed.
Read more...
Written by Jorge Martin
Friday, 23 April 2010 00:00
Link to source: http://www.marxist.com/pakistan-18th-constitutional-amendment.htm
In 2008 the people of Pakistan voted into office the PPP, hoping that this would bring genuine change, i.e. a real improvement in their living conditions. Instead we have a worsening economic situation, real suffering of the millions of poor, and warfare killing many innocent civilians. Meanwhile the PPP leadership is busying itself applying the IMF-imposed policies of cuts and privatisations. In these conditions it is not surprising that many are asking themselves what democracy has meant for them.
As the Pakistani official political scene was dominated by the debate on the 18th Constitutional amendment, which basically does away with the undemocratic provisions introduced by different military governments in the past, the majority of ordinary Pakistanis were wondering what democracy has really meant for them.
Leaflet produced by the Pakistani Marxists condemning the recent incident of killing of innocent civilians by the army in the tribal areasThe country's population is facing severe economic problems, prolonged power cuts (or as they are officially called "load shedding"), high inflation, cuts in public spending, etc. To this we have to add all the side effects of the US "war on terror" in Afghanistan: the killing of innocent civilians in Pakistan's tribal belt, both by the Pakistani army and the CIA drone bombers and increased terrorist attacks in the country's main urban centres.
Read more...
Written by Tom Hodgkinson
Thursday, 22 April 2010 20:13
Link to source: http://www.guardian.co.uk/technology/2008/jan/14/facebook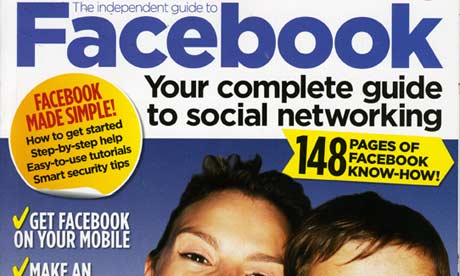 This article appeared on p6 of the G2 section of the GuardianMonday 14 January 2008. It was published on guardian.co.uk at 08.18 GMT on Monday 14 January 2008. It was last modified at 14.47 GMT on Tuesday 18 November 2008. on
Facebook has 59 million users (Now over 400 million) - and 2 million new ones join each week (Now likely 5 million a week). But you won't catch Tom Hodgkinson volunteering his personal information - not now that he knows the politics of the people behind the social networking site.
The US intelligence community's enthusiasm for hi-tech innovation after 9/11 and the creation of In-Q-Tel, its venture capital fund, in 1999 were anachronistically linked in the article below. Since 9/11 happened in 2001 it could not have led to the setting up of In-Q-Tel two years earlier.
---
I despise Facebook. This enormously successful American business describes itself as "a social utility that connects you with the people around you". But hang on. Why on God's earth would I need a computer to connect with the people around me? Why should my relationships be mediated through the imagination of a bunch of supergeeks in California? What was wrong with the pub?
And does Facebook really connect people? Doesn't it rather disconnect us, since instead of doing something enjoyable such as talking and eating and dancing and drinking with my friends, I am merely sending them little ungrammatical notes and amusing photos in cyberspace, while chained to my desk? A friend of mine recently told me that he had spent a Saturday night at home alone on Facebook, drinking at his desk. What a gloomy image. Far from connecting us, Facebook actually isolates us at our workstations.
Read more...
Written by Alan Woods
Monday, 19 April 2010 00:00
Link to source: http://www.marxist.com/venezuela-alan-woods-power-of-bourgeoisie-must-be-eradicated.htm
Without the control of the banks and key sectors of the economy, one cannot talk in Venezuela of a planned, and therefore socialist, economy. Alan Woods sums it up in one sentence, "you cannot plan what you don't control". Even doing that and radicalising the revolutionary process is not enough. A change in the state is also needed, because it is obvious "that the old bureaucrats of the IV Republic will not carry out socialism". Participative and protagonist democracy in the state and the companies. Russia was a "totalitarian and bureaucratic caricature which failed and was bound to fail".
Now that president Chávez has called for a radicalisation of the revolution, it might be useful to consider the opinions of Woods, a Marxist theoretician who confesses being an "unconditional supporter" of the Bolivarian process.
On several occasions you have insisted that the Bolivarian revolution is at a crucial stage, at a crossroads. What do you mean?
In the last 11 years there have been many advances, that is true. But, can we say that the revolution has been completed? President Chavez himself, on the day when he inaugurated the militia, gave the answer: "in Venezuela there is no socialism yet, this is not finished", and that is obviously true. Although there have been nationalizations, which we support, there are key sectors of the economy, the banks amongst others, which are still in private hands. Therefore, we cannot talk of a planned socialist economy. This is very dangerous, particularly in a situation of world crisis of capitalism, which has affected the Venezuelan economy with very negative consequences for the people, particularly inflation and other problems that you know better than me. We could fall into a potentially dangerous situation, because the right wing is taking advantage of this situation to argue against the revolution, discrediting socialism and preparing the way for a possible defeat.
Read more...
Written by Michael Gould-Wartofsky
Thursday, 15 April 2010 16:38
Link to source: http://mrzine.monthlyreview.org/2010/gw130410.html
Here, amid the glittering ruins of globalized gentrification's gilded age, a kind of glocal tenants' movement is taking shape, at once locally rooted and globally connected.
On April 6, 2008, a gathering of global dimensions was afoot on the steps of New York's City Hall.  You may have missed it at the time.  You may have been hard-pressed to find it on the news.
That day saw the launch of the International Campaign in Defense of El Barrio, spearheaded by a bottom-up community organization of more than 600 immigrant and low-income families facing displacement from their homes in East Harlem: Movement for Justice in El Barrio (MJB), or The Other Campaign New York (after Mexico's La Otra Campaña).
Thousands of miles away, the executives of the London-based Dawnay, Day Group -- the private equity firm that had just purchased 47 buildings (or 1,137 homes) in East Harlem as a beachhead in a bid to build a $5 billion real estate empire here -- could hardly have foreseen the ignominious fate that awaited their overseas investments.
Read more...
<< Start < Prev 1 2 3 4 5 6

7

8 9 10 Next > End >>


Page 7 of 11