Written by Tom Hodgkinson
Thursday, 22 April 2010 20:13
Link to source: http://www.guardian.co.uk/technology/2008/jan/14/facebook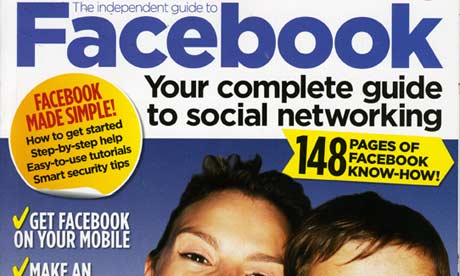 This article appeared on p6 of the G2 section of the GuardianMonday 14 January 2008. It was published on guardian.co.uk at 08.18 GMT on Monday 14 January 2008. It was last modified at 14.47 GMT on Tuesday 18 November 2008. on
Facebook has 59 million users (Now over 400 million) - and 2 million new ones join each week (Now likely 5 million a week). But you won't catch Tom Hodgkinson volunteering his personal information - not now that he knows the politics of the people behind the social networking site.
The US intelligence community's enthusiasm for hi-tech innovation after 9/11 and the creation of In-Q-Tel, its venture capital fund, in 1999 were anachronistically linked in the article below. Since 9/11 happened in 2001 it could not have led to the setting up of In-Q-Tel two years earlier.
---
I despise Facebook. This enormously successful American business describes itself as "a social utility that connects you with the people around you". But hang on. Why on God's earth would I need a computer to connect with the people around me? Why should my relationships be mediated through the imagination of a bunch of supergeeks in California? What was wrong with the pub?
And does Facebook really connect people? Doesn't it rather disconnect us, since instead of doing something enjoyable such as talking and eating and dancing and drinking with my friends, I am merely sending them little ungrammatical notes and amusing photos in cyberspace, while chained to my desk? A friend of mine recently told me that he had spent a Saturday night at home alone on Facebook, drinking at his desk. What a gloomy image. Far from connecting us, Facebook actually isolates us at our workstations.
Read more...
Written by Alan Woods
Monday, 19 April 2010 00:00
Link to source: http://www.marxist.com/venezuela-alan-woods-power-of-bourgeoisie-must-be-eradicated.htm
Without the control of the banks and key sectors of the economy, one cannot talk in Venezuela of a planned, and therefore socialist, economy. Alan Woods sums it up in one sentence, "you cannot plan what you don't control". Even doing that and radicalising the revolutionary process is not enough. A change in the state is also needed, because it is obvious "that the old bureaucrats of the IV Republic will not carry out socialism". Participative and protagonist democracy in the state and the companies. Russia was a "totalitarian and bureaucratic caricature which failed and was bound to fail".
Now that president Chávez has called for a radicalisation of the revolution, it might be useful to consider the opinions of Woods, a Marxist theoretician who confesses being an "unconditional supporter" of the Bolivarian process.
On several occasions you have insisted that the Bolivarian revolution is at a crucial stage, at a crossroads. What do you mean?
In the last 11 years there have been many advances, that is true. But, can we say that the revolution has been completed? President Chavez himself, on the day when he inaugurated the militia, gave the answer: "in Venezuela there is no socialism yet, this is not finished", and that is obviously true. Although there have been nationalizations, which we support, there are key sectors of the economy, the banks amongst others, which are still in private hands. Therefore, we cannot talk of a planned socialist economy. This is very dangerous, particularly in a situation of world crisis of capitalism, which has affected the Venezuelan economy with very negative consequences for the people, particularly inflation and other problems that you know better than me. We could fall into a potentially dangerous situation, because the right wing is taking advantage of this situation to argue against the revolution, discrediting socialism and preparing the way for a possible defeat.
Read more...
Written by Michael Gould-Wartofsky
Thursday, 15 April 2010 16:38
Link to source: http://mrzine.monthlyreview.org/2010/gw130410.html
Here, amid the glittering ruins of globalized gentrification's gilded age, a kind of glocal tenants' movement is taking shape, at once locally rooted and globally connected.
On April 6, 2008, a gathering of global dimensions was afoot on the steps of New York's City Hall.  You may have missed it at the time.  You may have been hard-pressed to find it on the news.
That day saw the launch of the International Campaign in Defense of El Barrio, spearheaded by a bottom-up community organization of more than 600 immigrant and low-income families facing displacement from their homes in East Harlem: Movement for Justice in El Barrio (MJB), or The Other Campaign New York (after Mexico's La Otra Campaña).
Thousands of miles away, the executives of the London-based Dawnay, Day Group -- the private equity firm that had just purchased 47 buildings (or 1,137 homes) in East Harlem as a beachhead in a bid to build a $5 billion real estate empire here -- could hardly have foreseen the ignominious fate that awaited their overseas investments.
Read more...
Written by Stephen Lendman
Thursday, 15 April 2010 16:00
Link to source: http://sjlendman.blogspot.com/2010/04/accelerating-fascism-in-israel.html
Occupied Palestinians and Israeli Arabs never had rights in a state affording them solely to Jews. Now even they're at risk as democratic freedoms fast erode on their way to extinction; to wit, free expression, a right without which all others are endangered. It includes free speech, a free press, freedom of thought, culture, intellectual inquiry, and the right to challenge government authority peacefully, especially in times of war and cases of injustice, lawlessness, incompetence, and abuses of power.

Israel has no constitution or specific laws guaranteeing equality or free expression. Yet its Basic Laws protect human dignity and liberty as fundamental democratic values, more rhetoric than fact given its persecution of journalist Anat Kam and Haaretz's national security reporter Uri Blau.

Kam (held under house arrest since December) will be tried in mid-April for passing confidential documents she removed while stationed in IDF General Yair Naveh's office during her mandatory military service. Blau, fearing assassination or a judicial lynching, is now hiding in London.
Read more...
Written by Michael Collins
Thursday, 15 April 2010 15:36
Link to source: http://agonist.org/wikileaks2
There they are, the people who brought you every bit of the action in the WikiLeaks video and all of the other horrors flowing from invasion of Iraq. Madeleine Albright (far right, above), former Clinton Secretary of State, is a good place to start. From 60 Minutes:
Lesley Stahl on U.S. sanctions against Iraq: "We have heard that a half million children have died. I mean, that's more children than died in Hiroshima. And, you know, is the price worth it?"

Secretary of State Madeleine Albright: I think this is a very hard choice, but the price--we think the price is worth it. --60 Minutes (5/12/96)
An exhaustive study found that 227,000 children under five (table 13) died during the George H.W. Bush - Bill Clinton regime of total sanctions against Iraq from 1990 through 2000.
Albright is distinguished as the most direct spokesmodel for senseless death and suffering that's characterized our engagement with that battered country.
But others carry much greater responsibility. The Bush administration had top secret plans to invade Iraq as early as February 2001. First hand witnesses in the prewar White House were unable to name a point when the decision to invade was made. It was a fait accompli.
Read more...
Written by Moshe Zuckermann
Wednesday, 14 April 2010 14:21
Link to source: http://mrzine.monthlyreview.org/2010/left100410.html
Dear Friends,
This letter is being sent to you by citizens of the state of Israel who are active in various Left groups and on a variety of topics throughout Israel/Palestine, including human rights, ecology, peace, support for refugees, social justice, workers' rights, feminism, and queer struggles.  We are struggling within our country and our society for a real social change, an end to the occupation, and the forging of an egalitarian and just society for all residents, women and men, of the area.
The decision to send this letter was taken following repeated reports of your party's actions on the situation in Israel/Palestine.  The participation of senior members of your party in a January 2009 demonstration in Berlin in support of the Israeli bombardment of the Gaza Strip, the existence and acceptance of a political working group within your party (Bundesarbeitkreis [BAK] Shalom) that clearly supports Israel's various military actions and disseminates militaristic and nationalistic propaganda, and the silence of a majority of senior party officials concerning the Israeli occupation policy clarified for us, amongst other things, the need for clear intervention on our part.
Read more...
Written by Eric Walberg
Sunday, 11 April 2010 00:00
Link to source: http://www.globalresearch.ca/index.php?context=va&aid=18637
The pretense that a president of a modest country like Kyrgyzstan can play in big league politics is shed with the ouster of the tulip revolutionary president Kurmanbek Bakiyev, after last week's riots in the capital Bishkek that left 81 dead and government buildings and Bakiyev's various houses trashed. 

Bakiyev tried to have the best of both big power worlds, last year brashly threatening to close the US airbase, vital to the war in Afghanistan, after signing a cushy aid deal with Russia, and then reversed himself when the US agreed to more than triple the rent to $60 million a year and kick in another $100m in aid. As a result he lost the trust of both, and found himself bereft when the going got tough last week, as riots exactly like those that swept him to power erupted.

It was the US that was there in 2005 to help him usher in a new era of democracy and freedom, the "Tulip Revolution", but this time, it was Russia who was there to help the interim government coalition headed by opposition leader and former foreign minister Roza Otunbayeva pick up the pieces. As Otunbayeva looks to Kyrgyzstan's traditional support for help extricating itself from a potential failed-state situation, cowed and frightened US strategists are already advocating trying to convince the Russians that the US has no long-term plans for the region, and that they can work together. Recognising the obvious, writes Eric McGlinchey in the New York Times, " Kyrgyzstan is in Russia's backyard, and the fact that we depend on our airbase there for our Afghan war doesn't change that. Presenting a united front with Russia, however, would help Washington keep its air base and avoid another bidding war."
Read more...
<< Start < Prev 1 2 3 4 5 6 7

8

9 10 Next > End >>


Page 8 of 11